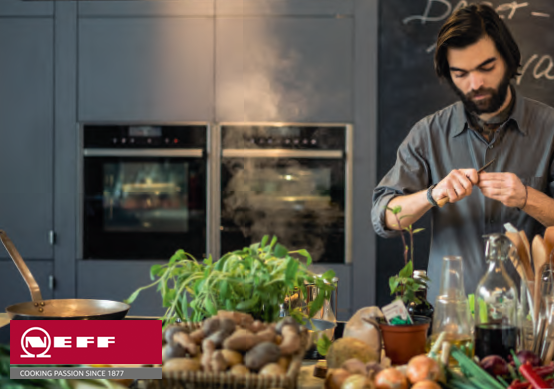 Appliances
Whether replacing existing appliances, or supplying appliances for others to fit, we aim to be competitive as possible, whilst still offering outstanding fitting services. Our showrooms display over 60 appliances, some of which are live for demonstration purposes.
Choosing appliances for your new kitchen employs the same level of care and expertise. In selecting appliance partners, Dewhirst have considered product range, quality, price and after sales service. Here are the current brands we use within our appliance range:
Neff: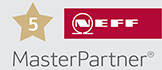 Dewhirst kitchens are proud to be a NEFF Five star master partner. This title recognises product knowledge, staff training and display commitment. As such, we offer the Neff Distinct Range which offers select products with added value only available to the elite dealers.
Neff are an established major player within the European Kitchen Appliance and part of the BSH group industry after 140 years of starting up as a small family business. The company is built on a strong reputation for stylish and reliable products which not only look great but cook brilliantly too. Due to its success, Neff has earned trust of over a million UK home owners.
Miele:
German manufacturer of high quality domestic appliances and commercial equipment since 1899. Known for the longevity of the products, which is reflected in their philosophy "Forever Better".
Faber
Faber have been manufacturing beautiful cooker hoods since 1955 and have gained a reputation throughout the world as one of the leading names in extraction. Famous for their impeccable styling and cutting-edge technology, Faber have revolutionised the cooker hood.
Blanco:
Kitchen sinks and taps by BLANCO – the number one for innovation, functionality and cutting edge design. Be inspired by BLANCO UK's extensive range of kitchen taps, kitchen sinks , induction hobs , extractor hoods and lighting.
Franke:
Swiss precision engineering since 1911. Making something wonderful rarely happens over night and Franke has been pushing the boundaries for over 100 years.
Elica:
Worlds number 1 company that manufactures most of the recognised brand names in the industry. They are relied upon by our customers for their wide range of stock and after sales service.
Visit our showroom on Granby Street in Leicester to see a selection of our appliances or call 0116 255 5745 to talk to one of the team at Dewhirst Kitchens today.