Staying in very quickly became the new going out after COVID19 hit in March last year and as a result, many people decided to invest in a modern dream kitchen to make the experience more pleasurable. 
Spending more time in the home has led hundreds of thousands of us to look for ways to improve our living environments and upgrading to a modern dream kitchen is one of the best ways to do it. In addition, Covid-19 has caused even people to enhance their cooking skills and spend more time in the heart of the home. This new modern way of life demands a modern kitchen.
Make the most of your dream kitchen
If you're going to get the most enjoyment out of your new found love of cooking, part of having a modern dream kitchen is embracing some of the latest technologies and exploring different cooking methods, with the aim of trying more new recipes and making the most of the time spent indoors. 
The need to have the latest technologies also comes from the fact that most of us these days lead hectic lives, so, while the time spent in the kitchen is more important to us, it needs to be functional and practical within the restraints of modern life. 
With cookery shows coming out of our ears and a wealth of Michelin starred restaurants to draw inspiration from, us Brits are more keen to have a modern dream kitchen and professional kitchen equipment contained within it. Think air fryers and proper coffee makers and appliances which can be remote controlled.
The kitchen is seen as not only a functional room but also an indicator of status. Kitchen designs can be out of this world and come packed with bundles of 'wow' factor to impress your guests. Improving our homes has never been so popular and of course one excellent way to do this is with a modern dream kitchen that's sumptuous, luxurious and 100% your style.
How to create your modern dream kitchen
At Dewhirst Kitchens we have been creating dream kitchens since 1957 and our experts can be there at every step of the way to help you create your modern dream kitchen.
Simply start the journey with a FREE discovery session where one of our kitchen design experts will assess your needs, taking into consideration the following: 
Storage needs 

Lighting 

Use of space

Style preferences

Worktops

Appliances 
We will then set a time to get together in the showroom to look at the initial design. It's at this point that we can start to bring your modern dream kitchen to life, using our state of the art computer aided design software. We will go through detailed plans, perspectives and a fully itemised quotation, as we develop the design to ensure you get the kitchen you have always dreamed of and that it is completely right for your needs. 
An Example of a Dream Kitchen Build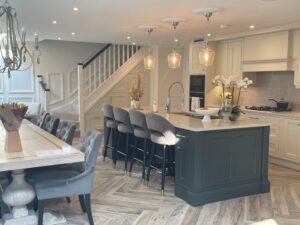 This kitchen which was completed earlier this year and encompases the beautiful kitchen design of a Dewhirst Kitchen.
Manufactured by our long standing partners at Stoneham Kitchens, holders of the Royal Warrant, the picture shows the inframe oak painted design.
The Dewhirst Penhurst kitchen which was fitted in Leicester, has a front made from solid oak, which is then painted in the factory to give it a tough long lasting finish. It mixes two colours, a rich dark green called Studio Vert which is contrasted with a light taupe colour called Mussel.
A large beautiful island houses the sink and dishwasher, and additional storage was custom made to fit under the staircase.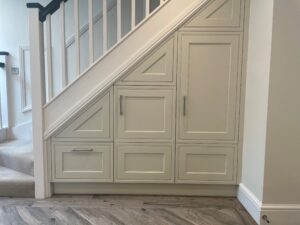 Our kitchen design process and discovery session using only the best materials created this wonderful kitchen.
Book Your FREE 30 Minute Discovery Session
At Dewhirst Kitchens, our aim is to make every step of getting the kitchen you always dreamed of so easy. By having experienced kitchen professionals answer all your questions, you can be sure that every option will be explored and every detail taken into account. 
If you've spent lockdown dreaming of your ultimate modern dream kitchen, book your FREE 30-minute discovery session today and look forward to making it a reality.